With only a month away from Larry Ellison's keynote at Oracle OpenWorld 2012, I thought that I would make a couple of wild guesses about new products that may or may not get announced this year.  I'll lump them into a few educated guesses and wild conjecture.  Insert standard blogging disclaimer (please read this part, Oracle lawyers):
Everything contained in this blog post is pulled from publicly available information and conclusions drawn from products that are currently available outside of Exadata.  None of this information comes from within Oracle - not that Oracle would be willing to give me any information otherwise.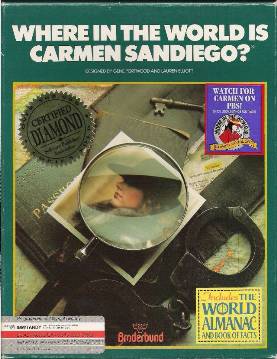 I've got a handful of presentations coming up in the latter part of the year, so I thought I'd add a quick post with where all I'm going to be.  Seems like I'm all over the map and I couldn't stop thinking of a game that I played way back when I was in elementary school.  Well, over the next few months, I'll be in a few places talking about Exadata, OEM, and other Oracle topics.  Here's a list of where I'll be, and what I'll be talking about.
Oracle Open World (San Francisco, CA - September 30 - October 4)
UK Oracle Users Group Conference (Birmingham, UK - December 3 - December 5)
Patching Exadata Demystified (December 4, 11:15AM)
Exadata Zero Downtime Migration (December 5, 11:15AM)
Of course, I'll be at Enkitec's booth (Moscone South, #421) at Open World as well, so feel free to stop by and say hi.  We may just have some goodies to give out as well.  I'm also teaching Enkitec's Exadata Administration course for a few sessions over the next 3 months.
If you missed Andy Mendelsohn's keynote at E4 last week, you may not have heard the hubbub that surrounded one of his last slides (tweeted by Frits Hooogland here).  The mention of the write-back enticed Kevin Closson to talk about the potential ramifications of such a feature.  There's a lot of information on that slide to digest (what's a pluggable database?  virtualization of database servers?), but I'm going to focus on the flash-based write-back cache.  Note that this is not mentioning the "Exadata Smart Flash Log" featured introduced last year with the 11.2.2.4.0 cell patch, discussed by Guy Harrison recently.  That feature sends writes to both flash and disk at the same time.  In my experience, the disk wins on > 90% of those writes.
This is something larger than just sending writes to flash...an issue that Oracle has likely been working on for a few years. Kevin had mentioned in his post that he expected it to be a feature in the 12.2 release, possibly 12.1 of the database. Because Mendelsohn mentioned that there was a 12-month timeframe for these items, I expected it would occur with the release of the new version of the Oracle database, 12c. I've been doing some poking around in the latest Exadata patch notes and saw a couple of interesting bugs around a write-back cache on Exadata using flash. Bug 14143451 "Enhancement for ASM write-back flash cache resilvering support" and bug 14132953 "Enhanacement to add Write-back flash cache resilvering support" have both been added to the August 2012 bundle patch for 11.2.0.3 (MOS note #1393410.1). If you look at these bugs, you will see that they are currently listed as fixed in 11.2.0.4. The fact that the enhancement has been added to 11.2.0.3 interests me. It looks similar to the introduction of the Exadata smart flash log feature, introduced in the 11.2.2.4.0 Exadata storage server version, released October 2011. If you look through the Exadata bundle patches for 11.2.0.2, you'll see that it was introduced into the database code in bundle patch 9 (MOS note #1314319.1). That bundle patch was released in July 2011. Sound familiar? I wouldn't put it past Oracle to include the write-back cache through a new version of the storage server software.
This sounds like the kind of feature that Larry Ellison would be very happy to announce at Open World in October. We'll just have to wait and see what gets announced. I'll have another post in the next week or so guessing about what may get announced a month from now in San Francisco.
As you may have guessed, applying patches on the Oracle Database Appliance can be a little bit different from your standard Oracle environment.  Oracle releases a software version that covers all aspects of the ODA - firmware, operating system, and Oracle software stack (grid infrastructure, rdbms).  Versions are numbered like this (image courtesy MOS note #1397680.1:

The ODA was initially released with version 2.1.0.0.0, and has seen several releases over the last year:
| Patch | Features |
| --- | --- |
| 2.1.0.3.0 | CPU bugfix, 11.2.0.2.5 GI PSU5 |
| 2.1.0.3.1 | OAK software updates |
| 2.2.0.0.0 | 11.2.0.3 GI/RDBMS, OEL 5.8, UEK kernel |
| 2.3.0.0.0 | July 2012 PSU for 11.2.0.2/11.2.0.3, firmware upgrades, multiple database home support |
In this post, we'll discuss upgrading an ODA running RAC or RAC one node to version 2.3.0.0.0.  Note that before going to 2.3, users must upgrade to 2.2 first.  This is because the 2.3 patch upgrade does not include some of the files used for the OEL 5.8 upgrade, among other things.