With only a month away from Larry Ellison's keynote at Oracle OpenWorld 2012, I thought that I would make a couple of wild guesses about new products that may or may not get announced this year.  I'll lump them into a few educated guesses and wild conjecture.  Insert standard blogging disclaimer (please read this part, Oracle lawyers):
Everything contained in this blog post is pulled from publicly available information and conclusions drawn from products that are currently available outside of Exadata.  None of this information comes from within Oracle - not that Oracle would be willing to give me any information otherwise.
I'll open with something that most people are actually expecting from Oracle - the introduction of the Oracle Exadata Database Machine X3-2 and most likely the X3-8.  Since the X2-2 is essentially 2 years old, I would expect Oracle to announce a new model.  To lend credence to this idea, I recently saw the following on the product search list when creating a new search box for knowledge articles in My Oracle Support: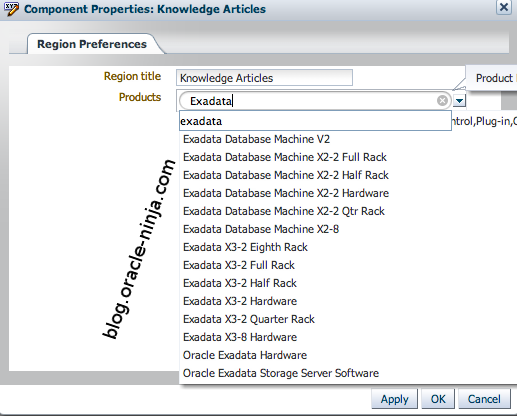 Seeing an eighth rack Exadata could be interesting - possibly along the lines of the seldom-seen Exadata V2 basic system (One compute node, one storage server, one Infiniband switch).  This would be a big sell for customers that want to give Exadata a try, or very small dev/test systems.  Keep in mind that there isn't much redundancy in these systems, and the performance isn't quite as great as you'd see on a quarter rack (less spindles, less flash cache).  That basic system deserves a post of its own one of these days.  Read on for more OOW12 prognostications.
"Educated" Guesses
Any discussion of the Exadata X3-2 starts with hardware.  The Westmere CPUs that are in the X2-2 (Intel Xeon X5670 and X5675) are getting long in the tooth.  Intel's new Sandy Bridge E5-2600 CPUs are on their way in the X4170M3 and X4270M3 servers.  In fact, Oracle has renamed them the Sun Fire X3-2 (formerly X4170M3) and the Sun Fire X302L (formerly X4270M3).  Let's look at the specs on the servers that would constitute an X3-2 Exadata:
X3-2 Server (compute node) -  datasheet
Specifications:
2 Socket Xeon E5-2600
512GB RAM maximum
4x 10 gigabit ethernet ports onboard
Four PCIe 3.0 slots (1 x16, 3 x8 slots)
My biggest questions are (1) how many CPU cores will Oracle place in these servers on Exadata, and (2) how much memory will be included?  I wouldn't be surprised to see Oracle include E5-2690 CPUs in here (2s16c32t@2.9GHz) with 128GB of RAM in a default configuration, increasing to 256GB or 512GB in a memory expansion pack.  Fortunately, we won't see the same issues in with the Sandy Bridge CPUs that we have on the current X2-2 systems (the memory frequency drops to 800MHz after the memory expansion pack is installed).  There was also a discussion on twitter last week between Alex Fatkulin and Greg Rahn about whether Oracle will enable active-active Infiniband connections (on the X2 and V2 systems, the PCI bus couldn't handle it).  In theory, compute nodes would be able to ingest the full speed of an active-active Infiniband link.  I've only heard of one real (non-laboratory) environment that actually pushed the limit of what a compute node can ingest, though - for some info on that, you'll have to talk to Karl Arao.
X3-2L Server (storage server) - datasheet
Specifications:
2 Socket Xeon E5-2600
256GB RAM maximum
4x 10 gigabit ethernet ports onboard
Six PCIe 3.0 slots (1 x16, 5 x8 slots)
We'll have to wait and see what gets introduced on these systems, but I'm going to play it safe here.  Since the F20 flash cards in the X2 systems are approximately 3 years old - they're the same cards introduced in the Exadata V2back in 2009 - I would expect the flash to get an update.  This would most likely come in the way of the newer F40 flash adapter, which provides more capacity as well as faster I/O on both reads and writes.  I would expect the storage servers in the Exadata X3 to contain something along the lines of an E5-2660 (2s16c32t@2.2GHz) with 24GB or 48GB of memory.
It would also be nice to see Oracle utilize the 2 rear-access drive slots in the X3-2L for the operating system, removing the need for the DBFS_DG diskgroup, but we'll just have to wait and see on that one.  While I would really like to see it, I don't know how high it is on the list of things to do within the Exadata Storage Server operating system.
Mildly crazy ideas
I have a couple of other ideas about what Oracle may do with Exadata, but I'm not sure how far from the original configuration they'll go.  One addition that would be cool would be the possibility of using the X3-2L servers with 24 disk slots to create either an all flash (24 x 300GB SSD) would make the high performance version of Exadata really scream compared to the current 12 x 600GB hard disk option.  Even creating a model with 20 x 900GB 10,000RPM hard disks and 4 x 300GB SSD would be cool to see, although storage server licensing costs would go through the roof if they doubled the number of drives.
One more thing that I would expect to be announced during OOW that's not really X3 specific is the write-back cache  for flash writes.  I blogged about this previously, along with Andrew Mendelsohn's slide about up and coming items for Exadata.  Virtualization will be interesting to say the least.  I'm not entirely sure how I would feel about running Oracle VM on my Exadata, but we'll have to wait and see if that gets announced.
After the news that Oracle Database 12c will be released later this year, I fully expect a big announcement on that at OpenWorld.  I'd expect to hear some big features around "cloud" type things - replication, security, new enhancements to RAC, etc...but that would be a safe guess for anybody.  We'll just have to wait and see what gets announced in a month!
update 9/4/12
One more thing that I didn't mention previously that I would expect from Oracle is that all of the Exadata components (database and storage servers) will utilize the Oracle Unbreakable Enterprise Kernel with the next release.  It's been deployed on the latest versions of the Oracle Database Appliance (which will probably see a refresh as well), showing exciting performance gains.  It would be surprising to see Oracle continue down the road with the RedHat compatible kernel on their flagship product.
It would also be a safe bet that we'll see an 11.2.0.4 patchset release.  Each of the last 2 years we have seen a patchset release around the time of OpenWorld.  I would really like to see that include ACFS on Exadata instead of DBFS, but that's probably just a pipe dream for now.