Well, it's been a really busy past few months, and I hate to admit it, but I've been neglecting this space more than anything. Despite having many different posts in the works, nothing is quite finished yet. I do have a little time to mention a few of my upcoming speaking events, though.
First, I'll be in Denver for the Rocky Mountain Oracle Users Group Training Days 2013, February 11-13.  Enkitec has more than a few sessions during the conference, ranging from Exadata to Big Data to APEX.  Check out the agenda for a full list.  Also, we'll have an Enkitec booth there, which is the place that I'll be hanging out when I'm not attending the numerous interesting sessions.  I have 2 presentations during the week:
I'm really looking forward to the RMAN session, as I'll finally be able to talk about some of the new stuff that's coming up in 12c.
I'm also going to be presenting a couple of Expert Seminars for Oracle University in the coming months.  I'll be presenting a "Getting Ready for Oracle Exadata" seminar over 2 half days in March (March 19-20) and May (May 28-29).  I'll be talking about topics like how to functionally manage your Exadata environment (backups, monitoring, patching, etc).  The sessions will be entirely online, and will have plenty of time for Q&A to ask any nagging questions.
Finally, I would like to mention that the call for papers is open for Enkitec's Engineered Systems conference, E4.  Once again, it will be held at the Four Seasons Las Colinas in August.  I know it's not the best time to come to the Dallas area, but they have great air conditioning, and it's nearly impossible to get this kind of access to some of the best Exadata professionals in the world.  The list of speakers from last year was incredible, and I'm sure that this year will be just as good.  Also, the attendees were great to talk to, since many of them were there to share their experiences running Exadata.  The call for papers is open, so if you have something you'd like to share, please submit your abstract!  We'll be covering more than just Exadata, with plans for several talks about Big Data, and possibly even an Exalogic or Exalytics session or two.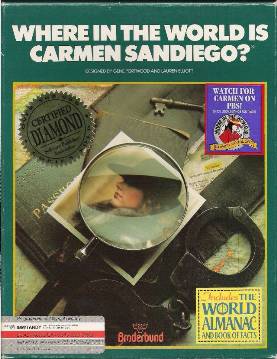 I've got a handful of presentations coming up in the latter part of the year, so I thought I'd add a quick post with where all I'm going to be.  Seems like I'm all over the map and I couldn't stop thinking of a game that I played way back when I was in elementary school.  Well, over the next few months, I'll be in a few places talking about Exadata, OEM, and other Oracle topics.  Here's a list of where I'll be, and what I'll be talking about.
Oracle Open World (San Francisco, CA - September 30 - October 4)
UK Oracle Users Group Conference (Birmingham, UK - December 3 - December 5)
Patching Exadata Demystified (December 4, 11:15AM)
Exadata Zero Downtime Migration (December 5, 11:15AM)
Of course, I'll be at Enkitec's booth (Moscone South, #421) at Open World as well, so feel free to stop by and say hi.  We may just have some goodies to give out as well.  I'm also teaching Enkitec's Exadata Administration course for a few sessions over the next 3 months.